EyeQuestion has the possibility to give direct feedback to the panelist about a given answer. This feature can be used for training purposes. Currently Direct Feedback is only supported for Line Scale Questions. You can manually insert product properties or import product properties using an Excel sheet. To give direct feedback EyeQuestion will need the mean and standard deviation(sd) of a product for a certain attribute. Using the

button in the product page you can import an Excel sheet, which will look something like this: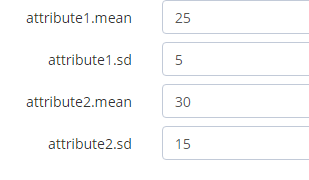 Of course you can also name the fields sweetness.mean and sweetness.sd etc. The names should correspond with the varlabels of the actual question that you want to use the direct feedback for.

In the advanced settings you can now enable the option feedback. In the Mean field you should place $$#varlabel.mean:product$$, this will activate a special tag which will read the mean of each product. In the SD field you should place $$#varlabel.sd:product$$.

After the panelist has answered the questions and clicked the next button EyeQuestion will directly show the feedback to the panelist.


Appendix A